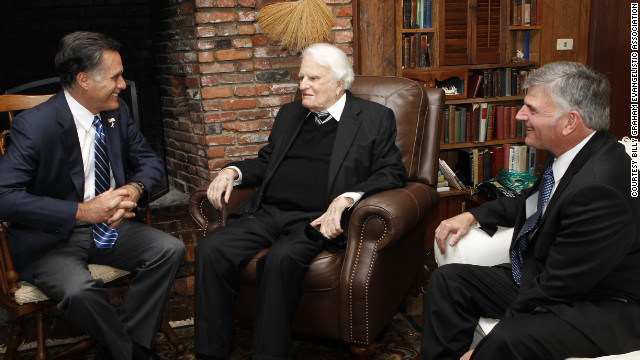 The
Billy Graham Evangelistic Association
apparently removed their cult page after a visit from Mitt Romney. A decade or so ago Rev. Billy Graham was a guest on the Hour of Power television show hosted by Rev. Robert Schuller. On that program Rev. Graham advocated a liberal view called "A Wideness in God's Mercy". [See:
Billy Graham and Article 18
]. Graham's Arminianism apparently led him to accept a view where implicit faith without doctrinal content can be a saving faith.
In light of Graham's position that only God knows a person's "heart", it follows that God does not save based on a public or even a private profession of faith. Assent to the biblical teaching on man's misery as a sinner under God's moral law and God's promises to save those who deserve nothing but God's eternal judgment and eternal punishment would seem to be unnecessary. (Romans 3:20-25; Romans 7:7; Galatians 3:22). Saving faith requires a knowledge of the Gospel message of Jesus Christ. (2 Corinthians 4:3-6; Ephesians 4:13).
Dr. Graham's view is just another example of how liberalism is creeping into Evangelicalism at large. Although I personally favor Mitt Romney because of the issues of religious freedom and the liberal left's attack on traditional biblical values and the traditional family, I cannot and do not believe that Mitt Romney's religion is legitimately "Christian". Mormonism is a
cult
.
I was particularly disturbed because Romney's last debate proclaimed that he believes in God, etc. Basically, Romney's statements were offensive because he was saying that he is no different from other Evangelicals. In short, he was outright lying about his religion. If Romney does not have the integrity to honestly admit that Mormonism is not a Christian religion, then I can only conclude that Romney is no more trustworthy than Obama. Either Romney is completely dishonest or he's sincerely deceived. Having dealt with many Mormons online over the years I think it is a matter of dishonesty. Mormons use that tactic in their proselytizing tactics and the implications of the Billy Graham Evangelistic Association's removal of their cult page is that Mormons will now use this publicity to deceive people into becoming Mormons. This comment is particularly disturbing:
"Our primary focus at the Billy Graham Evangelistic Association has always been promoting the Gospel of Jesus Christ," Ken Barun, chief of staff for the association, told CNN in a statement. "We removed the information from the website because we do not wish to participate in a theological debate about something that has become politicized during this campaign." Billy Graham site removes Mormon 'cult' reference after Romney meeting – CNN Belief Blog - CNN.com Blogs
I have to wonder if Franklin Graham had anything to do with this? Of course I agree that Obama's administration has outright attacked the Christian faith and openly promoted liberal "religion" by trying to establish a religious issue as the nation's policy, namely making it legal for homosexuals to get married under the sanctions of the federal government. Obama's views on abortion are radical and his administration's attempt to force religious organizations to subsidize abortions for their employees via medical plans is a blatant and overt attempt to use state power to impose the federal government's religious views on religious institutions.
Although I agree with Franklin Graham that marriage is only between a man and a woman, it does not follow that removing Mormonism and other cults from the BEA website is not a "political" move. It is much better to stand for the truth and let the chips fall where they may. Removing Mormonism from the cult list on the BGEA website is itself a "politicized move" since obviously the elder and younger Graham do not want to see President Obama re-elected. Be that as it may, Christians should never under any circumstances compromise the Gospel for the sake of winning a political campaign for a particular candidate. As much as I would like to see President Obama voted out of office I cannot and will not stop saying that Mormonism is a cult. If Romney is not careful his continuing claim that he is a Christian will backfire in his face. Many not so naive Evangelicals might change their minds and vote against him. In my case it is too late. I have already voted by absentee ballot. Yes, I voted for Romney. Mr. Romney, show some integrity and openly admit that Mormonism is not compatible with Evangelical Christianity or the catholic Christian faith expressed by the Protestant Reformers. Otherwise, you are more or less shooting yourself in the foot.
Charlie J. Ray, M. Div.